The next regular Doll & Bear Show will be held on October 29, 2023! » Newsletter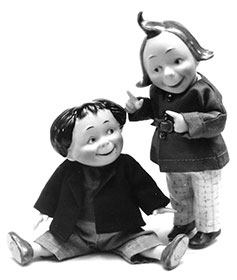 Max get up, the toy show is now
in the Art Musuem – We must go there!
+ Next spring event:
Doll And Bear Show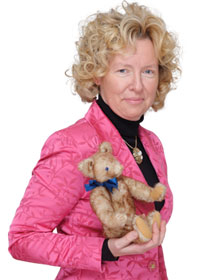 Organization: Ursel Alber

Venue: Zürich Art Museum – Lecture Hall
Heimplatz 1, 8001 Zürich, Switzerland
Phone: +43 664 404 19 26
+41 44 462 03 11
[Kontakt]


The Zürich Doll and Bear Show offers an especially diverse array of antique playthings. I would like to invite you to let yourself be enchanted by the manifold variety of toys produced in the past. Immerse yourself in the world of the children from an earlier era who learned to deal with life's realities through play with miniature objects. A fine sense for aesthetics and contemporary fashions and tastes of the times was brought to the toy production and is found mirrored in the objects themselves.

Very often a doll or a traincar is the beginning of the urge to collect. But the subject "Toys and Playthings" is, all in all, inexhaustible.

New at the show: the organizer will provide a free assessment and evaluation of the dolls, bears and toys brought along. A service by an expert with decades of experience and intimate knowledge of the market. Don't miss this opport!

For visitors who have come a long way, a visit to the Spielzeug-Welten-Museum (Toy World Museum) in Basel will round out the day. The museum always draws attention with excellent special exhibitions. Another must-see I would like to recommend: the Toy Museum Zurich, Franz Carl Weber Collection – a little paradise of antique playthings in a lovely setting.
Expansion of our program:
Starting with the next Show, well-known doll and bear artists will show their creations – A great enrichment of this venerable event.
Older toys from different eras can be found at the Toy Show, such as:
Dolls with porcelain heads and the appropriate wardrobes from German and French producers. Also Sasha dolls can be found, both series or original. A number of exhibitors offer a comprehensive supply of stuffed animals – primarily from the Steiff firm. Highly interesting objects can be found in the world of doll houses, kitchens and stores. Games and children's books, belonging to the subject of paper antiques (Ephemera), are also offered for sale. The Barbie Doll, a younger product, with her fashionable outfits from the fifties and the sixties is well represented. Wooden toys from the Erzgebirge or the wooden dolls from Brienz are always on hand, waiting to find a new owner.
Over the last few years Christmas decorations of cotton, glass or Dresden paper have become well established. Easter products, such as candy-containers, rabbits or paper eggs, which serve as elegant packaging for candy and sweets, are a special addition to the offerings under the theme "toys and playthings".
» Newsletter registration – so you won't miss important information